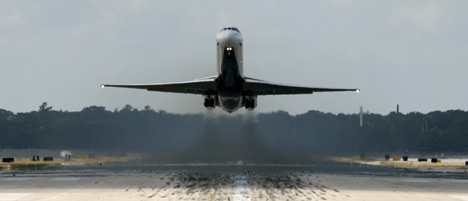 Airport traffic up 3% in March
Passenger traffic at Daytona Beach International Airport (DAB) increased 3.2% for March in comparison with the same month last year.* During the month, 75,274 passengers flew in or out of the county-operated airport, compared to 72,957 passengers last March.
For the 12 months ending March 31, total passenger traffic at DAB had increased 5.3% with 724,765 passengers traveling through the facility last year compared to 763,248 passengers this year.
"March was a great month, marking a return in passenger traffic increases over 2018," said Airport Director Rick Karl. "March is always one of our busiest months of the year and to have this type of growth is phenomenal. It is one of our best months in over 20 years."
Karl added: "American Airlines increased nearly 5,000 passengers over last year and Delta over 3,000. Also attributing to the growth were increased load factors on Delta and American, and the addition of our two newest air carriers, Silver and Sunwing. It's amazing to see when the airlines add capacity, the community is filling the seats. These types of positive trends bode extremely well for further airline expansion at DAB."
For more information, contact Business Development Director Jay Cassens at 386-248-8030, ext. 18309.
Disclaimer: *The monthly passenger traffic data obtained by the airport from the airlines is unofficial. Airline revenue passenger data can be obtained through the U.S. Department of Transportation (DOT), Bureau of Transportation Statistics. Data is usually reported three months after completion. http://www.rita.dot.gov/bts/sites/rita.dot.gov.bts/files/subject_areas/airline_information/index.html
The full traffic statistics report is available upon request by contacting Pat O'Brien at pobrien@volusia.org.