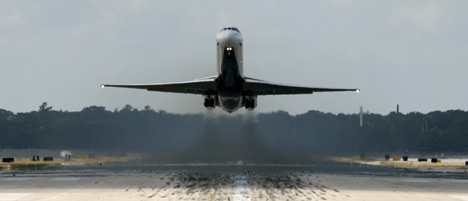 Airport traffic up 5 percent for year end 2019
Passenger traffic at Daytona Beach International Airport (DAB) increased 7.4 percent for December in comparison with the same month last year.* During the month 60,194 passengers flew in or out of the county-operated airport, compared to 56,038 passengers last December.
For the 12 months ending Dec. 31, total passenger traffic at DAB increased 5.9 percent, with 720,825 passengers traveling through the facility last year compared to 763,538 passengers this year.
"December marked our eleventh straight month of passenger traffic increases over 2017," said Airport Director Rick Karl. "Ending the year with our highest passenger traffic numbers in 21 years was a great accomplishment for the airport. Increased capacity on Delta Air Lines and American Airlines in 2018 contributed significantly to our record growth. With the recent announcement of American starting service to New York - LaGuardia in May, service on both American and Delta will continue to grow in 2019."
Karl added: "While overall passenger traffic may dip in 2019 because of the loss of JetBlue, commercial flights and non-stop service will increase over 2018 with new service from Toronto on Sunwing, daily Fort Lauderdale service on Silver Airways, and American Airlines service to New York - LaGuardia. It's amazing to see the passenger traffic growth we've had in the last 10 years, up 80 percent since 2009, and 2019 will certainly be another year filled with new opportunities to expand service."
For more information, contact Business Development Director Jay Cassens at 386-248-8030, ext. 18309.
Disclaimer: *The monthly passenger traffic data obtained by the airport from the airlines is unofficial. Airline revenue passenger data can be obtained through the U.S. Department of Transportation (DOT), Bureau of Transportation Statistics. Data is usually reported three months after completion. http://www.rita.dot.gov/bts/sites/rita.dot.gov.bts/files/subject_areas/airline_information/index.html
The full traffic statistics report is available upon request by contacting Pat O'Brien at pobrien@volusia.org.