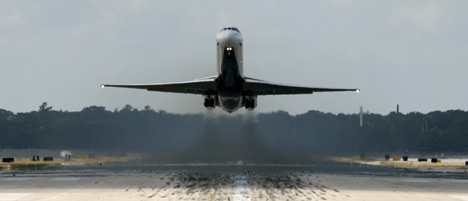 Airport traffic down 1% in April
Passenger traffic at Daytona Beach International Airport (DAB) decreased 1.1% for April in comparison with the same month last year.* During the month, 66,475 passengers flew in or out of the county-operated airport, compared to 67,182 passengers last April.
For the 12 months ending April 30, total passenger traffic at DAB increased 4.4 percent with 730,341 passengers traveling through the facility last year compared to 762,541 passengers this year.
"Even though April saw a slight decrease compared to last year, 2019 has exceeded our expectations," said Airport Director Rick Karl. "Delta Air Lines and American Airlines have added a significant amount of capacity since the beginning of the year. In April, Delta's traffic grew by nearly 2,000 passengers and American Airlines increased by 3,600 passengers. The recent passenger traffic increases on our two largest airlines have been phenomenal. With American Airlines starting New York-LaGuardia service on May 4, we expect positive growth to continue this summer."
For more information, contact Business Development Director Jay Cassens at 386-248-8030, ext. 18309.
Disclaimer: *The monthly passenger traffic data obtained by the airport from the airlines is unofficial. Airline revenue passenger data can be obtained through the U.S. Department of Transportation (DOT), Bureau of Transportation Statistics. Data is usually reported three months after completion. http://www.rita.dot.gov/bts/sites/rita.dot.gov.bts/files/subject_areas/airline_information/index.html
The full traffic statistics report is available upon request by contacting Pat O'Brien at pobrien@volusia.org.