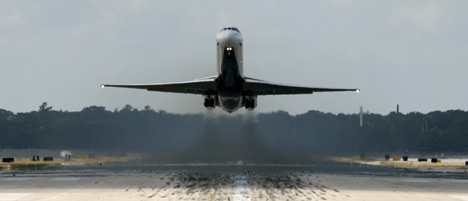 Airport traffic up 8 percent in October
Passenger traffic at Daytona Beach International Airport (DAB) increased 8.7 percent for October in comparison with the same month last year.* During the month 63,821 passengers flew in or out of the county-operated airport, compared to 58,707 passengers last October.
For the 12 months ending Oct. 31, total passenger traffic at DAB increased 4.7 percent with 719,356 passengers traveling through the facility last year compared to 753,117 passengers this year.
"October marks our ninth straight month of passenger traffic increases over 2017," said Airport Director Rick Karl.
Karl added: "Capacity increases on both Delta Air Lines and American were the driving force for increases in October. Both carriers added daily flights compared to their schedules last year. Even though JetBlue announced the discontinuation of JFK service in January 2019, Delta and American continue to expand service at a record pace. We anticipate passenger traffic numbers will continue to grow for the remainder of the year as Delta and American continue to add flights and increase capacity."
For more information, contact Business Development Director Jay Cassens at 386-248-8030, ext. 18309.
Disclaimer: *The monthly passenger traffic data obtained by the airport from the airlines is unofficial. Airline revenue passenger data can be obtained through the U.S. Department of Transportation (DOT), Bureau of Transportation Statistics. Data is usually reported three months after completion. http://www.rita.dot.gov/bts/sites/rita.dot.gov.bts/files/subject_areas/airline_information/index.html
The full traffic statistics report is available upon request by contacting Pat O'Brien at pobrien@volusia.org.